In this blog, Traveling Business Class with Kids, we wanted to update our 2019 article, which offered tips on flying with kids in business class to see if the experience has changed. In addition, we will also be looking into what you can expect when flying with baby in business class with 3 of the biggest airlines. We will also answer questions such as, from what age can a child fly business class? And, can kids sit in the business class?
Traveling Business Class with Kids: Emirates Airlines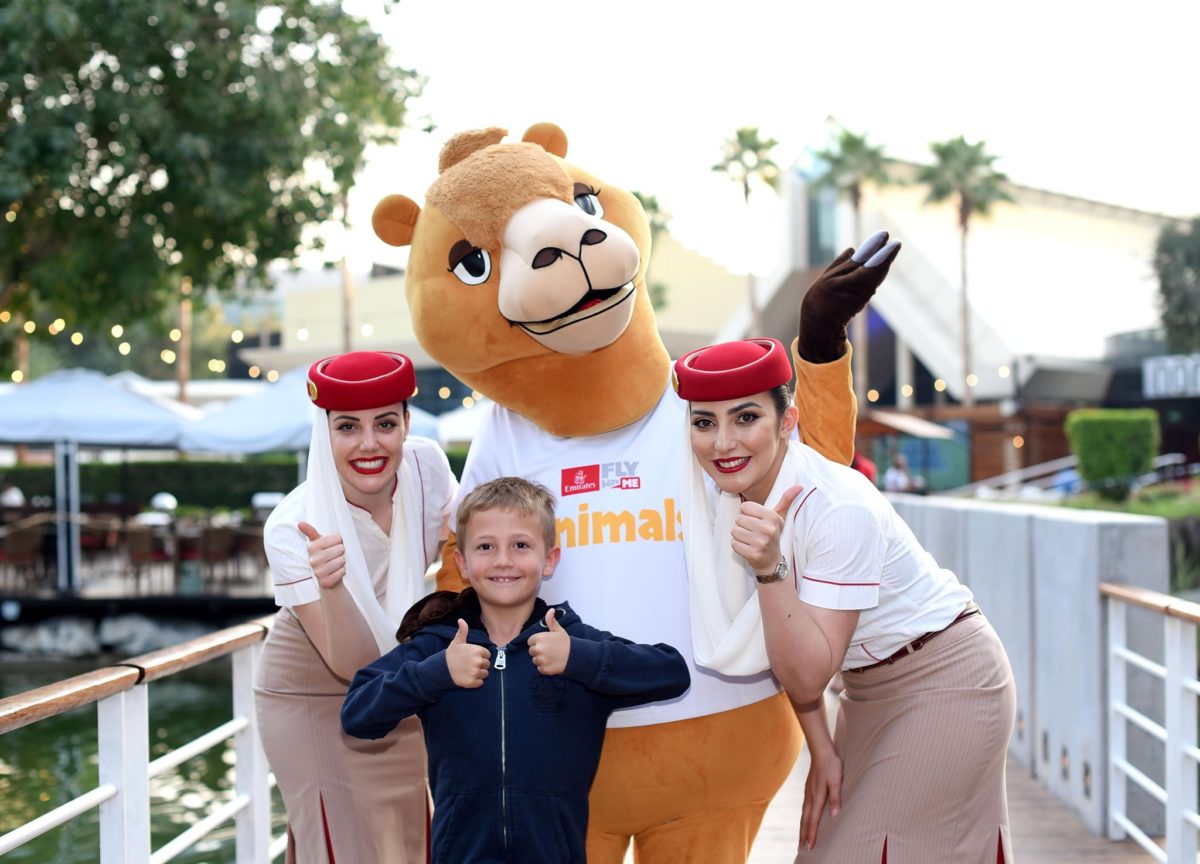 Emirates is an airline that keeps on flying at the height of aviation. In 2020, they won the Best Worldwide Airline award for the seventh consecutive year. Moreover, to set parents' minds at ease when wondering what the service will be like when Traveling Emirates business class with kids, Emirates also picked up the best cabin crew in 2020.
What can you expect at the airport?
Award-winning friendly staff 

Family Check-in desks

Priority boarding

Business Class lounges with video games, toys, and more 

Trampoline playground

Nutella bar
Baggage allowance for parents traveling with infants (under two years of age) to and from destinations in the Americas and flights originating in Africa:
One cabin bag not exceeding 22 by 15 by 8 inches (55 by 38 by 20 centimeters) of maximum 5 kg (11lbs)

Checked‑in baggage up to 10kg (22lb)

 If space is available, one of these items below can be taken onboard free of charge:

 Fully collapsible stroller/pushchair

 Carrycot

 Car seat
Children  (2 to 12 years old)
Are allowed 20 kgs per bag, with a maximum of two bags
Inflight seating
 0-1 years old, parents have the option of either requesting a bassinet or traveling on their lap.

 2 years or older must occupy a seat, meaning parents must pay the applicable child fare. This includes approved car seats.
Also, important to note, Emirates seats can recline into a real bed. For full details of Emirate's special assistance and available request's click here.
Just so you know
For parents taking baby on board, breastfeeding at your seat, of course, is encouraged, and a blanket will be provided if you'd like extra privacy. Furthermore, you'll find changing tables in the bathrooms while receiving an infant kit filled with essentials, such as nappy cream, bibs, and wipes.
Children's inflight meals
Emirates has put together a range of organic Ella's Kitchen baby meals, such as veggie moussaka and sweet options yummy prunes.  However, if you prefer to bring your own food onboard, the cabin crew will help you with food and bottle warming. Milk formula and baby bottles are on hand if you need them.
Children aged between two and 12 will receive special kids' meals. And if your child has a specific diet – that is taken care of too. Simply order your chosen meal when you book or after via Manage your booking.
Children's entertainment and toys
Younger kids can choose from either Lewis the Lion, Peek U Panda, Ernie the Penguin, and Savannah the Elephant as their gift. And, for tiny tots, they come with an accompanying fluffy blanket. Older children can learn more about the world with travel‑themed activity packs created with Lonely Planet Kids.
There are also 50 Disney movies and 130 kid's channels to chose from- there is also the option to listen to the latest music or movie soundtracks. For our latest and best deal on Emirates business class, flights click here.
Traveling Business Class with Kids: Qatar Airways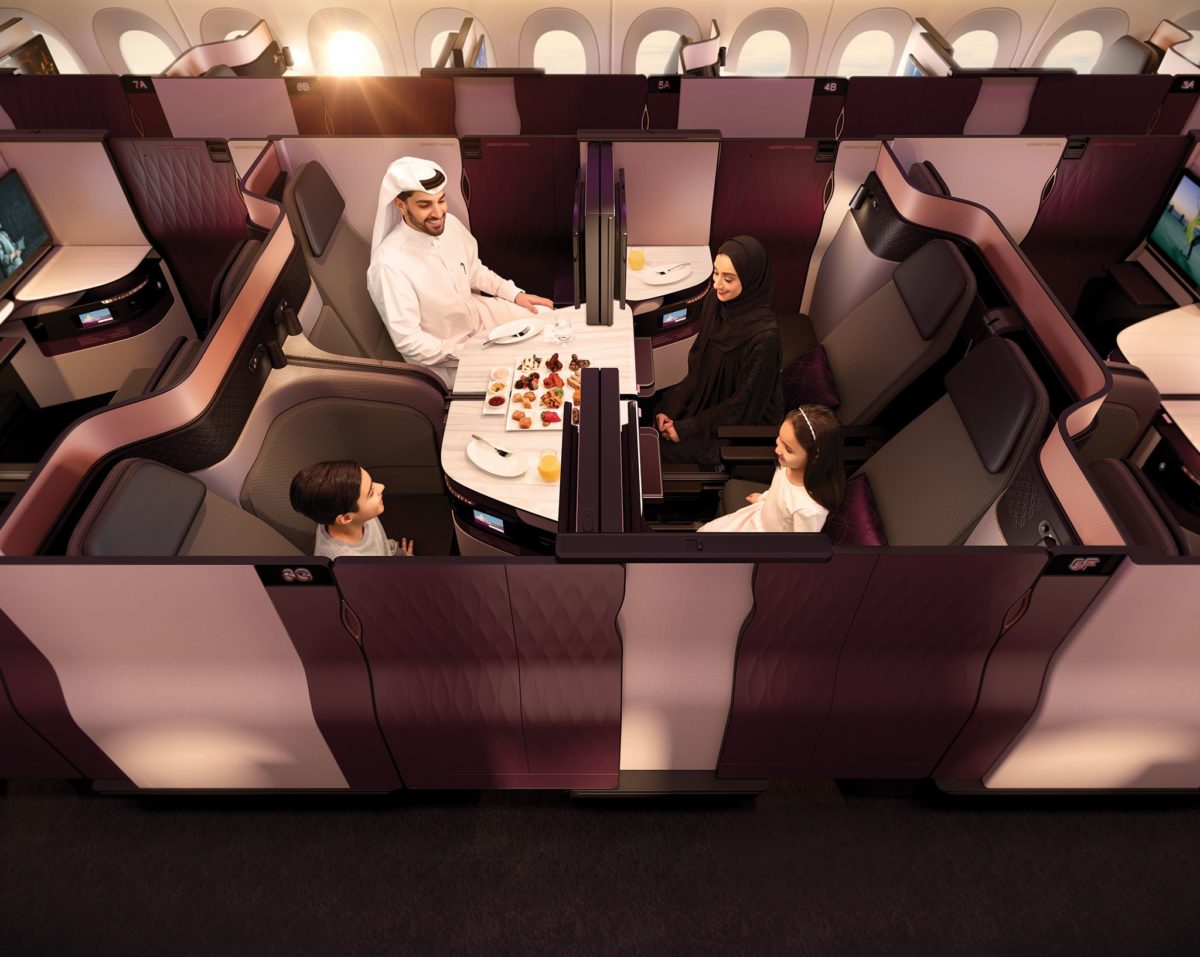 Qatar is another airline that sets and exceeds the standard of luxury air travel. so what can you expect when you fly their awarding-winning Qatar business class with kids?
Flight types
Infant fare is between 8 days and 2 years

Child fare is between ages 2 and 11

Adult fare is 12 years and above
What can you expect at the airport?
Exclusive rate for Al Maha Services Meet and Assist Family Package 

Hamad International Airport features a series of eight bespoke playgrounds 

Mac stations

Family rooms for privacy and comfort

25-metre, temperature-controlled indoor swimming pool, located in the Oryx Airport Hotel



Baggage allowance
Infant fare
Flights to and from Argentina, Brazil, Canada, and the United States One piece, not to exceed 23kg (50lb) 

All other routes 10kg (22lb) 

One stroller, collapsible carrycot, or pushchair per infant is accepted without charge
Child fare
Children and infants traveling on a child fare are eligible for the same baggage allowance as adults. 40kg (88lb)
 Seating
Option to reserve a bassinet seat or to travel on parent's lap

Car seats: click here to find out what ones are acceptable onboard

Seats can recline into a real bed
Note: Even though breastfeeding should, of course, not be a problem, there aren't any policies available to read before you fly.
Children's inflight meals
Qatar provides pre-packaged baby food for infants up to two years, which can be selected before you board. Qatar also suggests bringing your own meals and snacks if your baby has a special meal requirement.
Older children will receive a meal box packed with a fresh and nutritious meal, fruit juice, and fun treats.
Children's entertainment and toys
Oryx Kids Club and loyalty program offers children's in-flight meal boxes and plush toys on board. In addition, a new and exclusive frequent flyer program designed for kids aged two-11 will be able to register for and earn Qmiles. When traveling with an infant a sleepy-time soft-plush toy is offered.
Educational programs, video games, and family blockbusters are all available. And for infants, there are the worlds leading baby and toddler network channel, BabyTV. For the best deals on Qatar business class click here
Traveling Business Class with Kids: Etihad Airways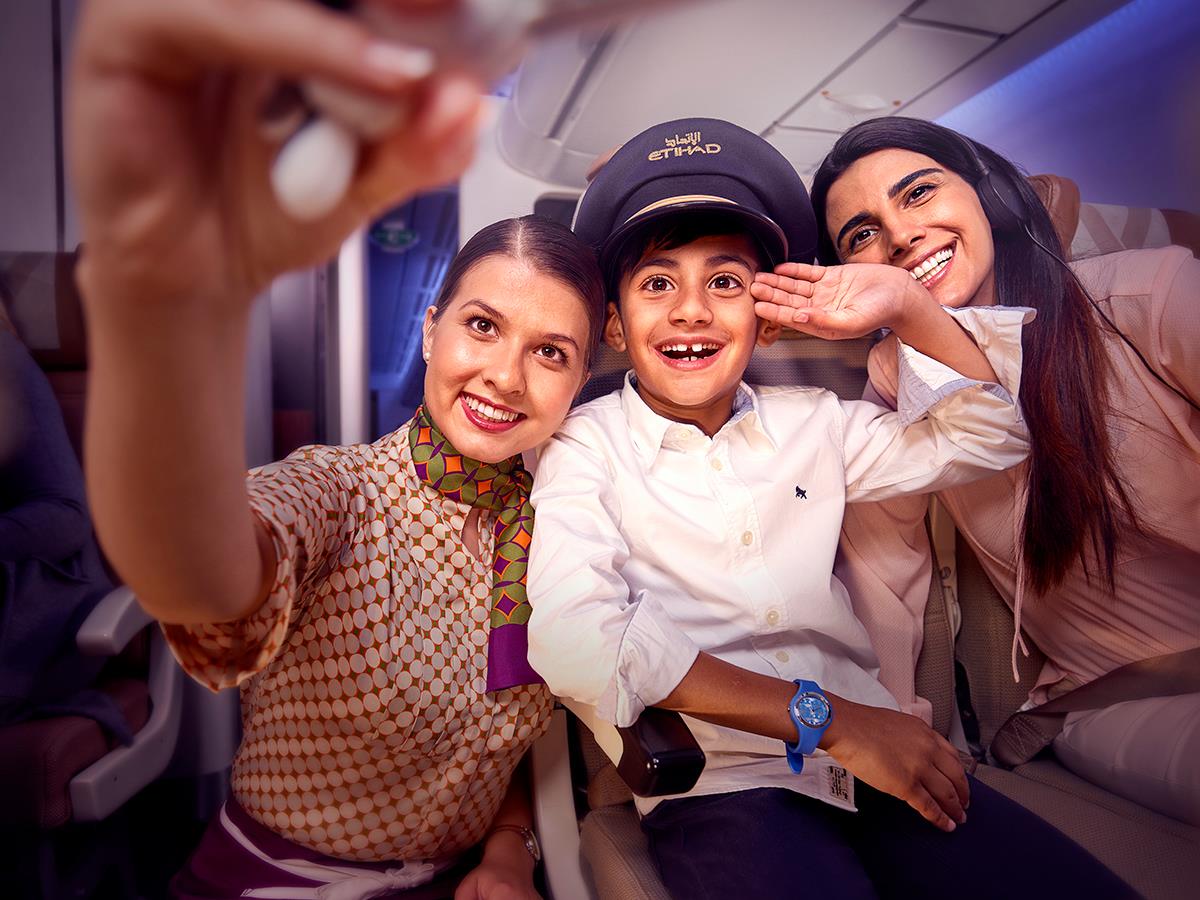 Just like in our blog in 2019, Etihad was and still is a leader amongst kid-friendly airlines. Last year saw Eithad winning the Pride of Aviation Award for demonstrating outstanding steadfastness in the face of an unprecedented industry crisis. And more recently, Etihad picked up, Aviation Achievement Award 2021.
Flight types
Infant: 7 days – 23 months

Child: 2 – 11 years

Adult: 12 years
What can you expect at the airport?
Family rooms at lounges at major airports

Families invited onto the plane first 

Pushchair check-in

Children under 5 can use our lounges for free

Qualified nannies

Soft toys

Strollers
Baggage allowance
Infant
Checked baggage to/from USA and Canada: 23kg 

 All other destinations: 10kg

 Cabin baggage: One-piece, 5kg
Child
Normal baggage rules apply
Seating
Infant
No, infants are permitted to sit on the lap of their parent
Bassinets are available on a first-come, first-served basis
Child
Children aged up to three years old traveling on a child's ticket may use certain approved car seats
Seats can recline into a real bed
Children's inflight meals
Etihad has created fun children's meals to keep kids in business class happy on board, packed with nutritious favorites and sweet treats too. You can request a child's meal up to 24 hours before your flight. For infants, there is a selection of baby food available.
Children's entertainment and toys
Etihad's explores offers children's activity packs, with collectible character bags that include coloring books, games, and puzzles. The latest kids' movies, TV shows, and games onboard. Etihad's parental lock feature also means that you can control what your little flyers are watching. Remember if you're flying on our A320 and A321 aircraft, each child will need to bring their own device and headphones. You can find our latest deals on Eithad business class flights here
Afterthought
We hope our blog has given you an insight into what you can expect when Traveling Business Class with Kids and flying with baby in business class. Of course, as more and more travel restrictions get lifted, the number of routes where business class is offered will also go up. Having said that, if you want to make flying with your littles ones as stress-free and as seamless as possible, flying business class will give luxury and complete peace of mind.