Today we have yet another Business Class review by SkyLux Travel. Our latest airline is Air Canada, and we'll be looking at the Air Canada Business Class experience.
About
Air Canada is Canada's largest airline. As the country's flag carrier, the company will take Canadian athletes to the Summer Olympics in Paris in 2024. The Canadian Parliament established the airline in the Trans-Canada Air Lines Act of 1937, so the company has a long history of being Canada's airline. It is a founding member of Star Alliance, providing direct service from North America to six continents. In fact, Air Canada is the only international network carrier in North America with a Four-Star ranking from Skytrax.
Awards
Air Canada was recently recognized as Favorite Airline in North America for the fifth consecutive year by the Trazee Awards. In December 2022, Global Traveler named it the Best Airline in North America for the fourth year in a row. In June of last year, Air Canada was recognized several times during the Leisure lifestyle awards, which praised its Onboard Entertainment, Menu, and Family-Friendliness. These are just the company's recent awards, so you can be sure you'll be well-taken care of when you travel Business Class on Air Canada!
Air Canada Business Class Seats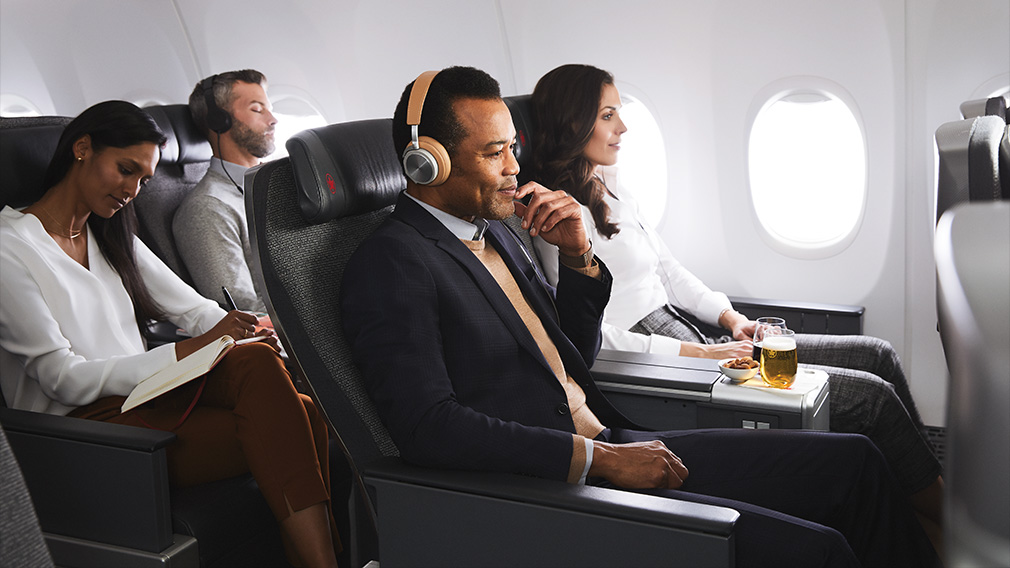 When you fly Business Class with Air Canada in North America, you're guaranteed to be seated in the aisle or by a window. The seats are larger than in Economy, with more recline, extra legroom, and adjustable head and footrests.
For international flights, you'll fly in Air Canada Signature Cabin (formerly International Business Class). The Signature cabin has executive or classic pods with lumbar support and massage functions. You can convert your seat to a fully flat bed up to 6′ 7″ long. So you can have a comfortable nap on your long-haul inter-continental flights.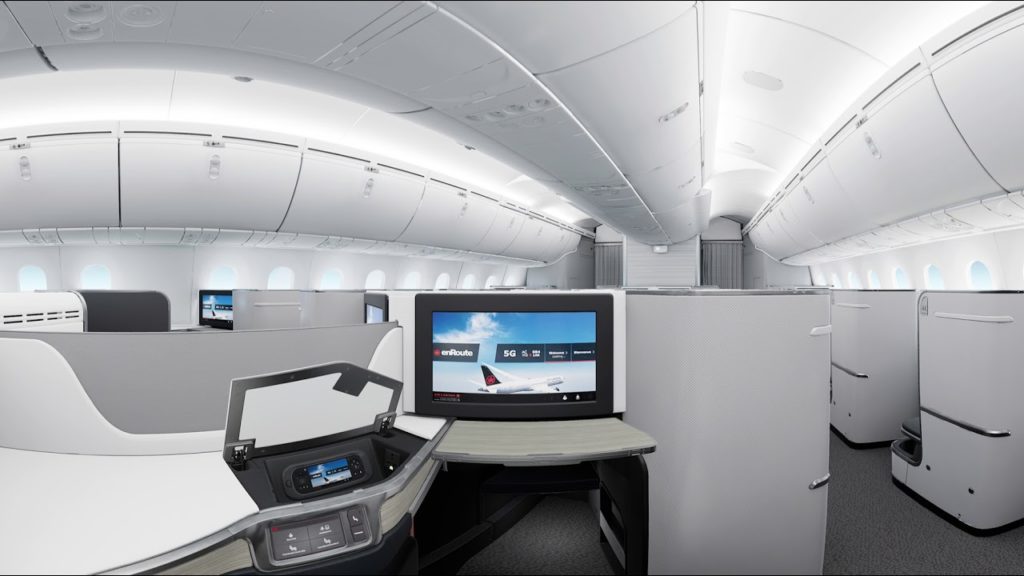 Please note that Air Canada's Executive Pod is available exclusively on their Boeing 787 Dreamliner and Boeing 777 aircraft, while the Classic Pod is available on the Airbus A330 aircraft.
When you board, you'll get:
A sanitized and clean pillow, duvet, and mattress pad packaged together;

Air Canada's Signature Amenity Kit;

A CleanCare+ kit containing a mask, antiseptic wipes, and hand sanitizer;

Headsets are available upon request;

A water bottle will be provided pre-departure.
Air Canada Business Class Meals & Catering
When traveling in Air Canada Business Class in North America or the Caribbean, you'll receive an all-inclusive meal tray. It includes a hot dish, salad, vinaigrette, bread roll, and dessert. Drinks include bottled water, Perrier, Lavazza coffee, black tea, a selection of soft drinks, beer, and red, white, and sparkling wine.
For longer international flights, there will also be a hot snack served mid-flight. A snack basket will be available throughout the flight. The flight will also include a hot casserole, appetizer, salad, dessert, a bread roll, cheese, and crackers. Special meals are available upon request.
Air Canada offers flexible meal options to travelers that prefer to eat earlier or later than the scheduled service times. You can enjoy any Air Canada-featured main courses served with warm bread and butter, mixed greens, cheese and crackers, and fruit anytime during your flight. If you're flying to Asia, the Middle East, or Australia, you can order any dish from Air Canada's snack menu at any moment during the flight.
Entertainment in Air Canada Business Class
While many travelers opt to nap on longer flights, you may wonder about the entertainment options on Air Canada Business Class. Air Canada doesn't disappoint! You can enjoy hundreds of hours of top entertainment on your touchscreen. With plenty of choices of film, music, television, and podcasts, you'll be entertained throughout the flight.
Your Business Class booking also grants you complimentary access to over 7,000 magazines and newspapers on the PressReader app.
Benefits and Privileges
With Air Canada Business Class, you'll have access to airport business lounges. This means you can relax before the flight, grab a meal, and perhaps have some work done. If you're traveling from Toronto Pearson International Airport or Vancouver International Airport, you can access Air Canada's luxury Signature suites. The suites offer complimentary à la carte dining with dishes created by Air Canada's award-winning chef, David Hawksworth, and a bar menu that includes Moët & Chandon champagne and cocktails featuring Diageo spirits, personalized concierge service, and Molton Brown care products.

Air Canada also has Maple Leaf Lounges located in 16 airports in Canada, the U.S. and Europe. At the lounges, you'll have access to complimentary Wi-Fi, a selection of digital and print newspapers and magazines, complimentary food and beverage options.
Travelers departing from Toronto Pearson International Airport on a domestic or international flight in Air Canada Signature Class have a full-service check-in space with comfortable seating and dedicated self-service check-in kiosks. All other airports have dedicated priority check-in counters to ensure you get quick service. All Air Canada Signature Class passengers leaving from a Canadian airport will receive personalized check-in service from a team of specially trained Premium Agents.
You'll also have access to exclusive lanes for security screening, so you don't have to plan extra time for security. The same goes for immigration: select airports will have priority lanes for Air Canada Business Class and Signature Service travelers.
Bottom Line
Air Canada Business Class offers a fantastic luxury experience for all travelers. After the flight, you'll be well-rested and ready to take on whatever the day brings. Customers love the onboard service and the on-ground perks that make their travel experience stress-free. Furthermore, you can save over 50%* of the ticket price when you call one of our experts toll-free at (888) 668-0828 or visit our Air Canada page for our latest deals.