In this blog, The Ultimate Guide to Qatar Airways Business Class, we will walk you through what you can expect when you fly at the peak of aviation luxury. Qatar's rise to the summit of being crowned the world's best business class airline started back in 1997. Since then, Qatar's magnificent fleet of 235 aircraft flies 29 million customers annually to over 83 countries-winning an astonishing array of awards on the way. Even in these austere times, Qatar continued to show its class by being the first airline to gain a 5 stars Covid safety rating.
The 2019 Skytrax World Airline Awards named Qatar the World's Best Airline, making Qatar the only airline to win the award 5 times! But that wasn't their only award, Qatar also won the World's Best Business Class, Best Business Class Seat, and Best Airline in the Middle East. So we thought we would create a blog detailing what you can expect when you fly business class comfort with the world's number 1 airline.
Qatar Airways Fleet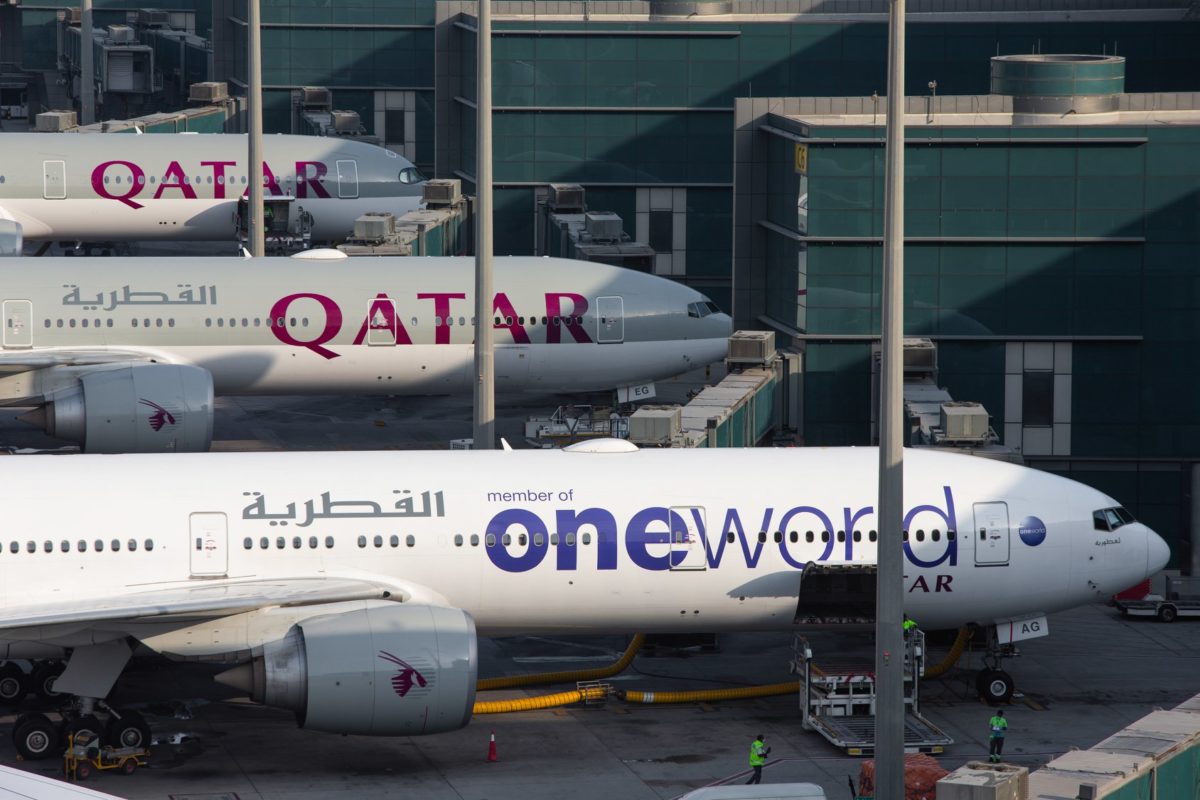 Qatar has one of the youngest fleets, with an average aircraft age of just five years old, which serve all six continents, connecting more than 130 destinations on the map every day. In addition, to their award-winning Qsuites, each plane has differing amenities and services while offering a mixture of class options – click on the list below to see their full spec.
Qatar Flights: At the Airport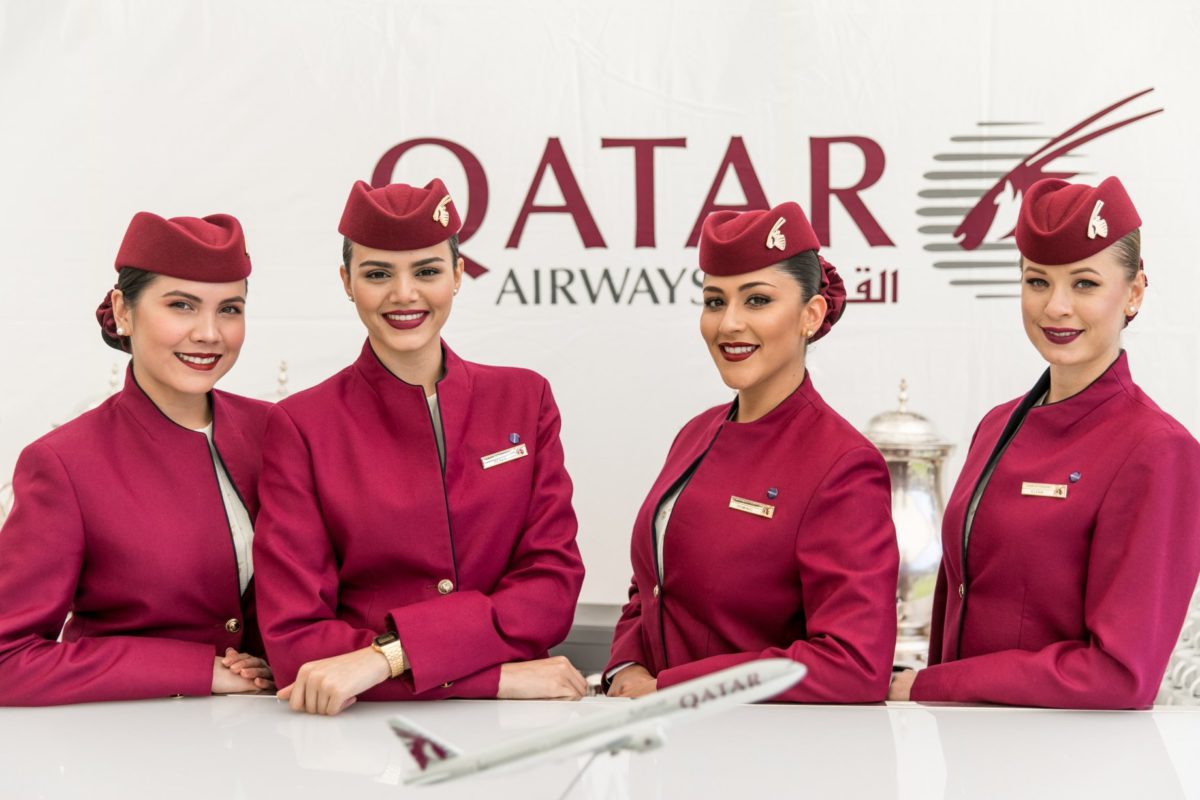 Of course, you can not be regarded as the world's best business class airline if you do not offer customers a door-to-door luxury chauffeur service. And Qatar does just that with its simple online booking tool that lets you reserve a chauffeured Mercedes-Benz to 85 destinations in their flight network.
Business-comfort class customers will also enjoy seamless priority check-in and a baggage allowance of 40kg (88lb) and 2 pieces of hand baggage (15kg/33lb total).
Al Mourjan Business Lounge Hamad International Airport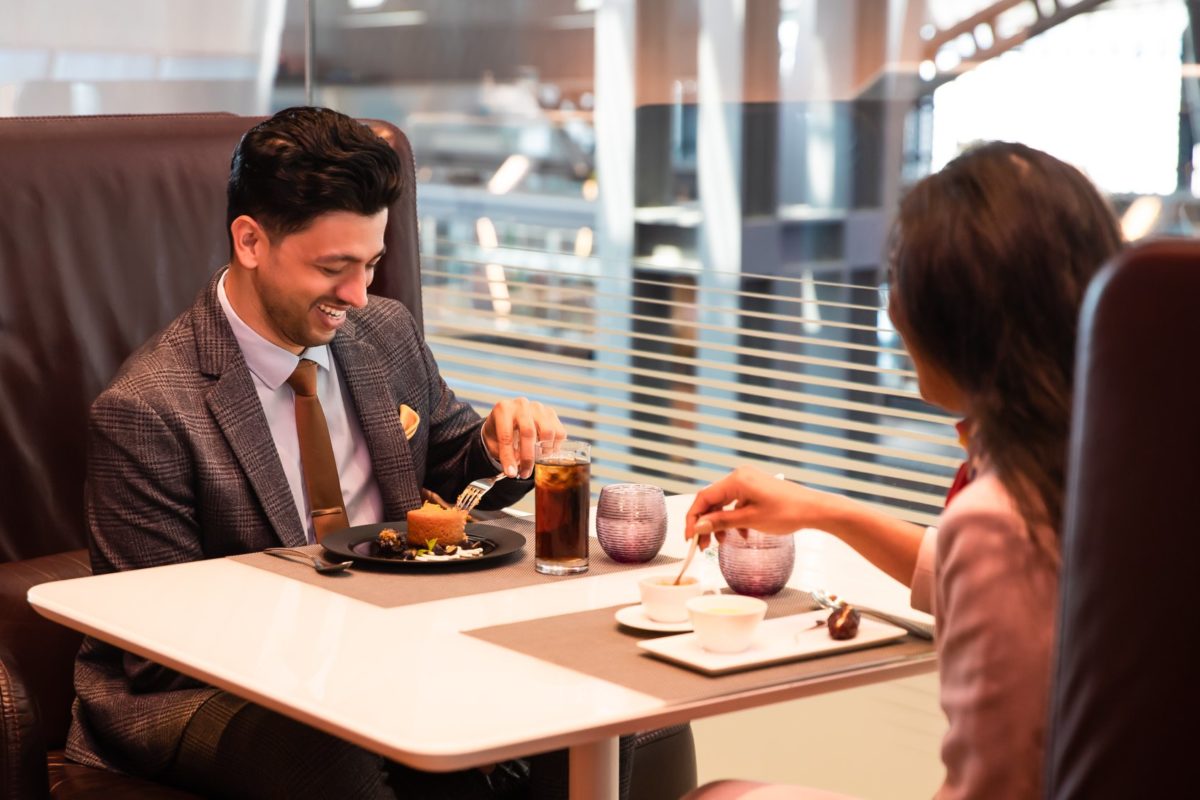 Once you have checked in, there is nothing left to do but take advantage of Qatar's business class lounge. Currently, there are 160 lounges throughout the world, all of which are accessible to business class passengers. But because Hamad International Airport is the hub for Qatar, we will be focusing on The Al Mourjan Business Lounge in Doha.
Widely regarded as being on par with any five-star hotel, Qatar aims to redefine the world standard in airport lounge experiences. Adorned with exclusive marbles, designer furniture, and intricate embellishments, you can tell no stone has been left unturned in their pursuit of design perfection. Qatar's lounge covers an incredible 10,000 square meters and offers passengers every kind of space they could possibly need.
For dining, the lounge has multiple options available. So no matter if you fancy a light bite or a gourmet experience, your tastes will be catered for, and all options are served with exclusive beverages. In addition, to help passengers unwind, private family areas are available, and for entertainment, there are games rooms, and there is even a nursery! 
If you feel the need to freshen up, you will not be found wanting as each shower has its own spacious area equipped with luxury amenities. And of course, complimentary wi-fi and charging stations make sure the work areas have everything you will require to complete any last-minute tasks. 
Qatar Airways Inflight Dining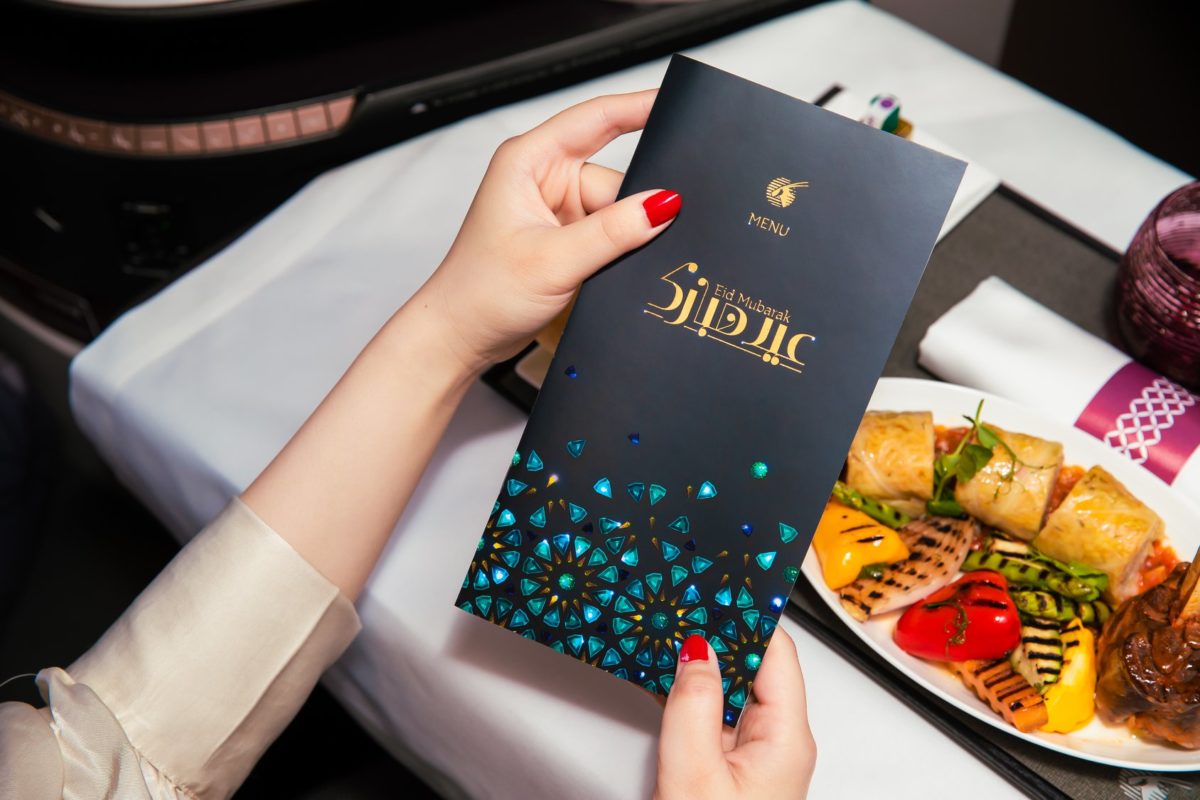 The onboard experience is what distinguishes Qatar from other airlines. And when it comes to business class dining, Qatar has gone above and beyond to bring flyers the very best culinary delights.
Four award-winning international chefs have developed Qatar's Business Class menu. Ramzi Choueiri, Vineet Bhatia, Tom Aikens, and Nobu Matsuhisa have meticulously created an exclusive selection of appetizers that include freshly baked bread a creamy buttermilk almond soup, Arabic mezze, and cured fillet of salmon with celeriac remoulade.
And for mains, there are the chef's signature dishes, Arabic chicken kofta with oriental rice blue-eyed cod pan-fried with mashed potato and cabbage, braised beef cheeks with roast kipfler potato.
Not forgetting a tasty selection of warm and sweet creations for deserts, such as warmed orange semolina pudding, fresh berries with rose water syrup, and a gourmet ice cream selection.
Qatar Airways Entertainment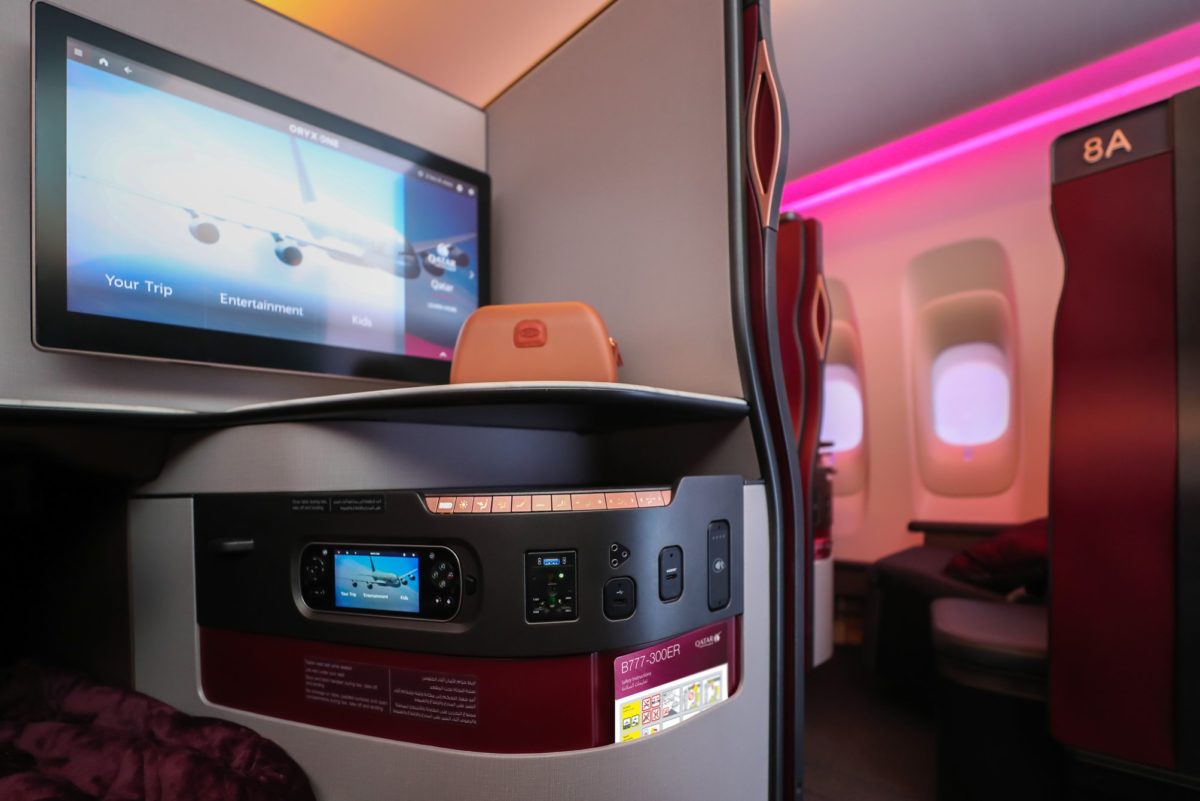 In your Qsuite, you will find the Oryx One's entertainment system that features an intuitive 21.5-inch touch screen, which makes finding a movie, TV program, or game from the 4.000 available simple and enjoyable. 
With the very first dual-screen interface, onboard the A350, A380, and B787. Passengers will now be able to multitask, like play a game on your handheld device as you watch movies on their personal screen.
If you need to work in-flight, Qatar has that covered too – simply connect to OnAir GSM/WiFi service.
Qsuite
When Skytrax awarded Qatar Airlines the title of best business class in 2019, there is no doubt Qatar's award-winning innovative Qsuite would have played a huge part in the decision-making process. 
The new Qsuite is not only equipped with The Words Best Business class seat, but it also offers passengers complete privacy with the introduction of doors to the suits. Moreover, the new quad formation makes the Qsuite fully adaptable. So whether traveling with family, friends, or colleagues, passengers can transform their space into a party in the skies!
Also, the Qsuite has Qatar's first-ever cabin with aft and forward-facing seats, which of course, have been dressed in the finest fabrics in Qatar's signature color scheme. 
A fully lie-flat double bed with pillows, mattress and duvet will ensure a good night's sleep and comes with a bespoke turn-down service. Waiting for you in your Qsuite is a complimentary amenity kit that includes –
pajamas, slippers, earplugs, socks, an eye mask, Monte Vibiano lip balm, moisturizer, and facial mist.
For your entertainment, the media panel is equipped with a 21.5-inch touchscreen with the Oryx One system with an access power port, with USB, HDMI, and NFC capabilities. For a full breakdown check out our blog on how Qsuites Redefine Business Class.
Conclusion
Flying business class with Qatar airlines is truly a luxury experience. We believe once you consider the conveniences of a chauffeured service and taken into account the quality of lounge's amenities, the award-winning Qsuites, and the food and beverage available on request-all it must be added served with Qatar's world-renowned customer care. Then the adage of 'life is a journey, not a destination' makes traveling with Qatar at the peak of luxury a special event in itself. 
Furthermore, if you have any questions regarding booking flights with Qatar, our experienced travel managers are on standby to provide the answers. To request a free customized Qatar Airways quote and check out our deals on cheap business class flights, click here for more details.