In this ultimate guide to flying business class with Emirates, we will show you not only the best way to book business class tickets but also detail the journey one can expect when traveling with an award-winning airline. We will cover everything from being chauffeur-driven to the airport to mingling at the walk-up bar inflight. Of course, we will also be looking into check-ins, baggage allowance, business lounge access-inflight entertainment, and dining options onboard.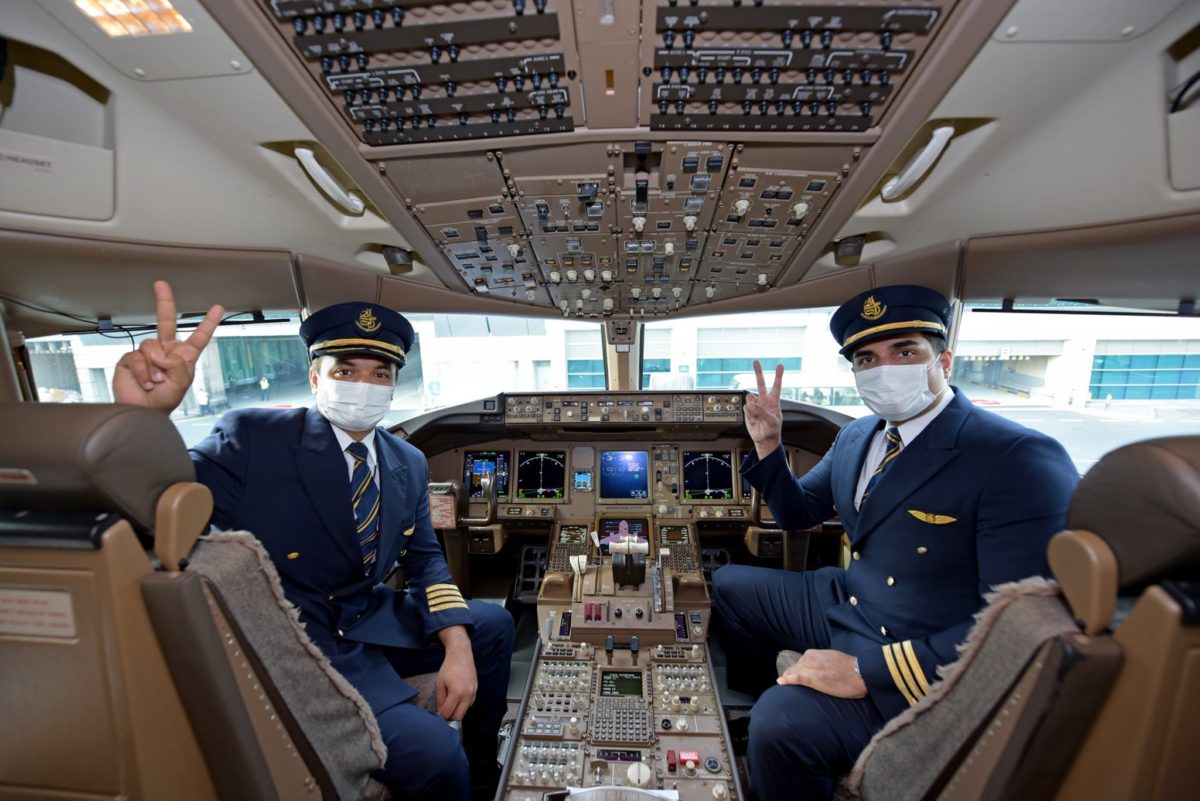 In 2020 Emirates swept the boards at the Traveller Middle East Awards, winning the Best Airline Worldwide for the seventh consecutive year. Emirates airlines were also the first airline to offer customers free Covid-19 cover for medical expenses of up to EUR 150,000!
So let's start by looking at Emirates business class fleet.
Emirates Airline's F

leet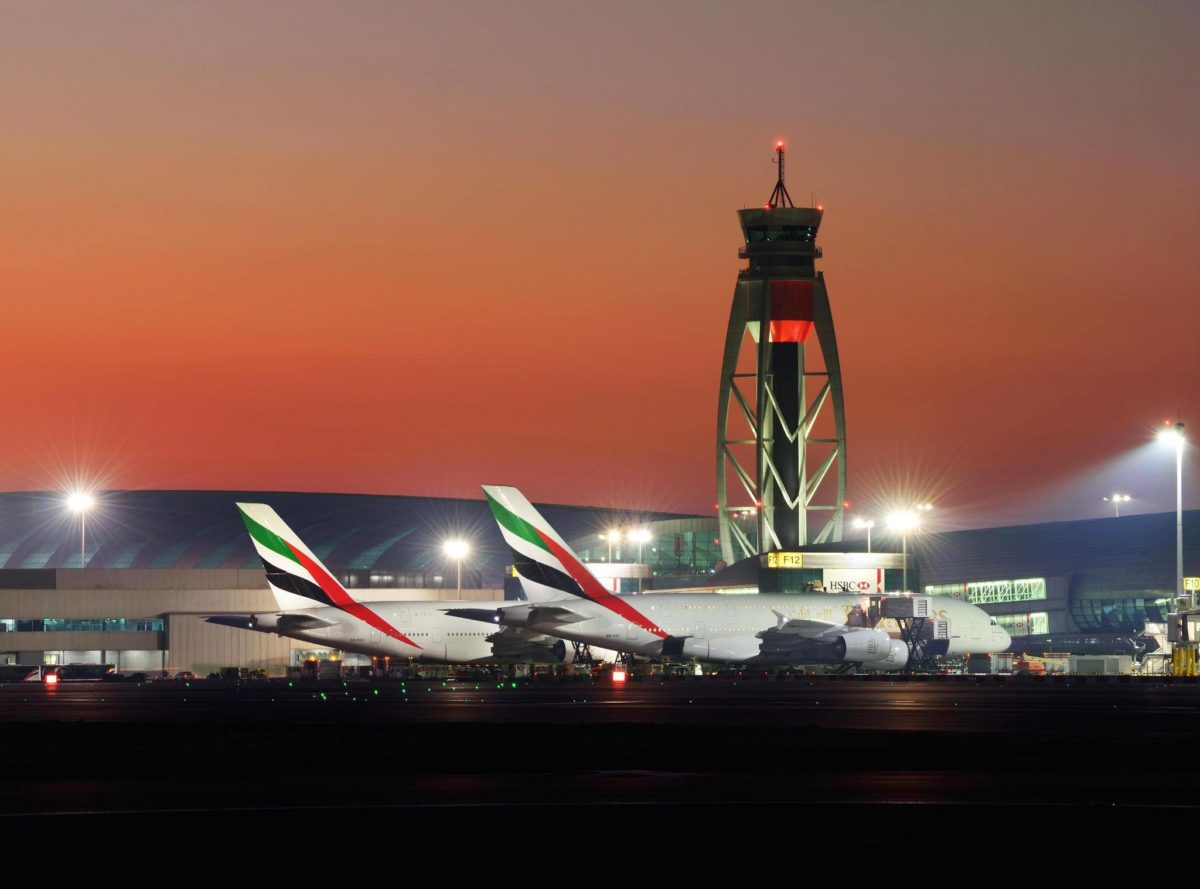 Depending on your destination, your flight with Emirates business class will either be on the A380 or the Boeing 777.
Emirates Airbus the A380 covers distances up to 14.193 km, to 50 destinations, and has wined and dined over 105 million passengers since 2008! The A380 offers everything from private Suites, Shower Spas to flat-bed seats and inflight Wi-Fi throughout. For a 3D view of the cabins on the A380, visit here. 
Emirates Boeing 777 flies to over 19 destinations, covering distances up to 12,940 km with a recorded passenger count of 298 million since 2004! With the ultimate luxury of fully enclosed First Class cabins and spacious Business Class seating. The Game Changer, Emirates claim is that the Boeing 777 offers the best in class for every class. Find out for yourself by clicking here for a 3D view of its cabins.
Emirates Airlines 

Chauffeur Service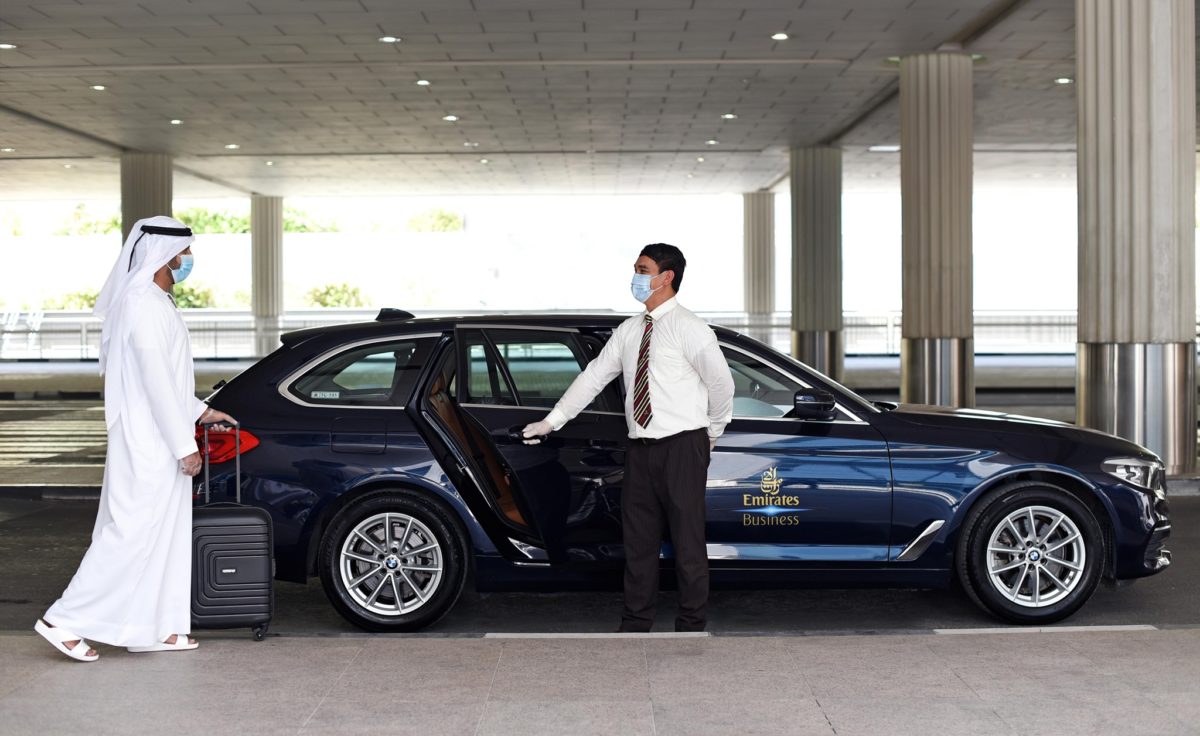 For travelers embarking on Business class flights, the sense of luxury and style begins right from the get-go with Emirates Chauffeur-drive to and from the airport. The procedure of booking your pick-up is straightforward enough. Either add it to your itinerary when you book your flight or later through Manage Your Booking. When you land, check in with your driver at our Chauffeur-drive desks. 
Remember to arrange pick-up at least 12 hours before your flight.
 A list of routes available can be accessed here, and booking conditions here.
Emirates Airlines 
Check-in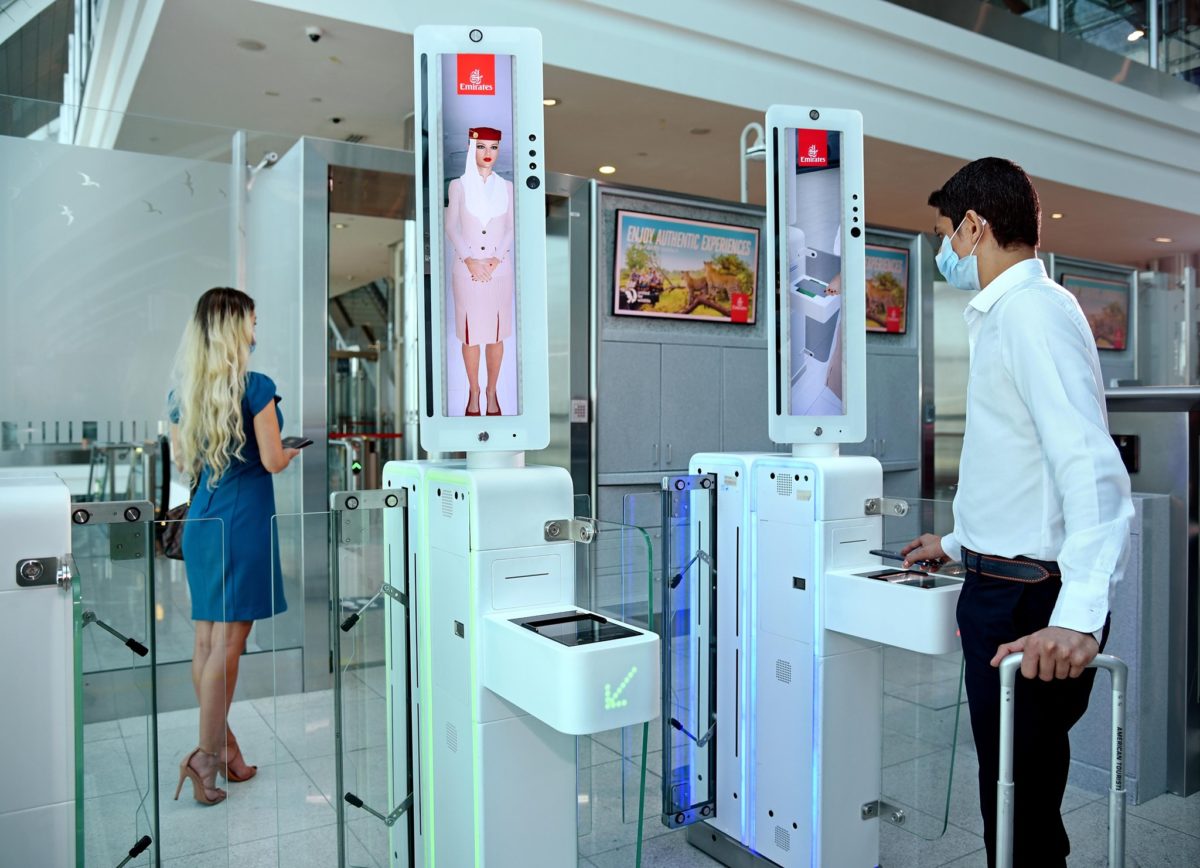 Business travelers will not only receive priority check-in and boarding, but they will also be able to take advantage of Emirates' contactless journey. Passengers at Dubai International airport will be able to walk seamlessly through the airport using biometric facial recognition. Once you register a photo at check-in you can waltz through the secure Biometric Smart Zones in Concourse B every time you're in Dubai. 
Also, you will be able to check-in, clear immigration, access airport lounges, and board your flight at selected gates purely by facial recognition.
Managing your Emirates Airlines Booking
By logging into 'Manage your booking' with your booking reference, and your last name, you will be able to take control of the services below.
Check your itinerary

View, print or email your flight itinerary. Check your flight details and make changes to your booking.

 Select a seat

Choose where you want to sit on the plane and make changes right up until check-in.

Check-in online

Between 48 hours and 90 minutes, before your flight. You can also use mobile check-in and download your boarding pass on your phone. 

Buy excess baggage allowance

 If you need more you can pay for extra baggage online for 20% less than at the airport. Check our baggage rules before you fly.
Emirates Airlines Checked Baggage
Emirates works with the concept that your allowance is the total weight of all your baggage combined. The weight could well differ depending on which route and which class you are flying. Business-class passengers are allowed up to 40kg. For more detailed information visit here. 
Emirates Business Class Lounge in Dubai International Airport
Concourse B.
With the Business lounge offering full service in Concourse B, you will enjoy a personalized barista experience with Costa Coffee while helping yourself to healthy treats from Emirate's new Health Hub. The bespoke Moët and Chandon champagne lounge is open and serves four iconic brands of champagnes along with canapés crafted by Michelin star chefs!
Concourse A.
Offers travelers purposely designed quiet areas, perfect for enjoying gourmet dining and exclusive beverages. If you want to relax and catch up with the day's events- the complimentary Wi-Fi will make sure you never miss a thing. Direct boarding straight from Concourse A Lounges is also available.
Emirates Worldwide lounges are now starting to re-open to check what services are operating click here.
Emirates Airlines 
Seats – Airbus A380
On the airbus, seats are set in a staggered configuration, with each seat not only offering direct aisle access but will also fully recline into a bed; mattress and blanket are both available. Business Class passengers can also select their seats at no extra cost. In your cabin, you will find an entertainment controller, seat controller, minibar, power outlets, and more storage.
Emirates Boeing 777
The 777 seats are in pairs, with six in each row. The new configuration means the new seat pitch of 72 inches gives even more comfort. Also included is an ergonomically designed headrest, perfect for when the seat reclines into a fully flat sleeping position. A mini-bar and one of the industry's largest personal TV screens at 23inches is ready to entertain you. 
Emirates In-flight Entertainment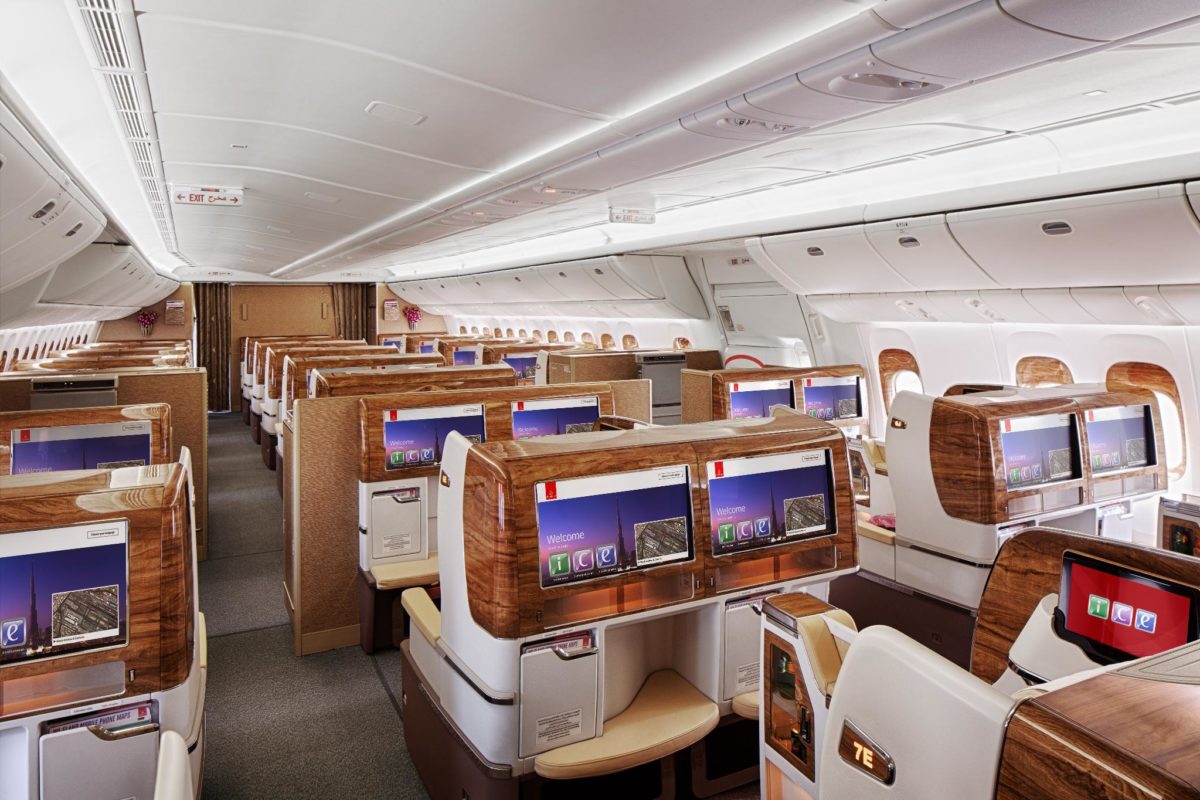 After you have received your complimentary glass of champagne, why not tune into Emirates award-winning entertainment system, ice. Here you can choose from 4,500 channels, including movies, TV shows, and live TV channels.
Emirates Business Class Dining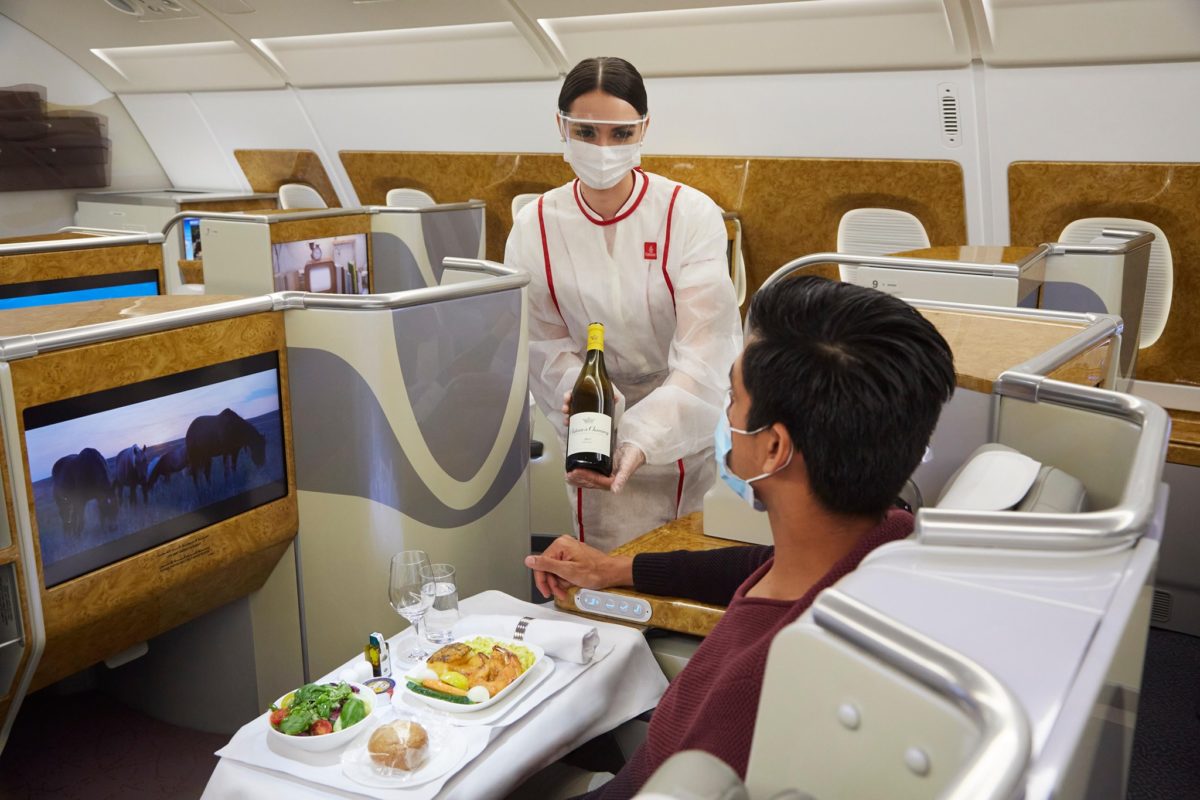 Due to the pandemic changes to the dining service have been made, the Royal Doulton serving plates and Robert Welch cutlery has been temporarily replaced. However, the food in-flight is still of the highest standard! You can still expect traditional Arabic mezze when you're flying from Dubai, or Mauritian chicken curry on your way to Mauritius, or even moqueca from Brazil, to name just a few.
Emirates Airlines In-Flight Bar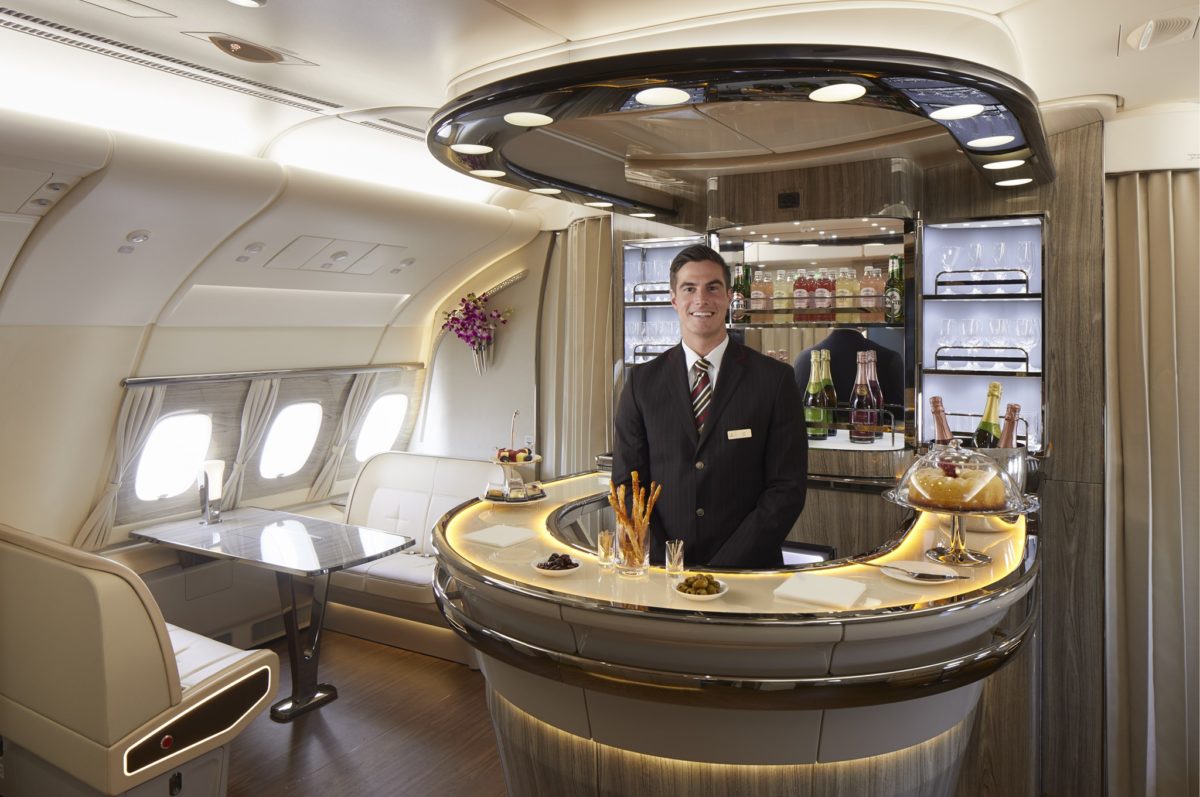 As another option, you can always sample the curated selection of fine wines and spirits complete with fresh fruit, canapes, and pastries if you're flying on the A380. 
Emirates Airlines Routes
To check where you can fly business to and for click here.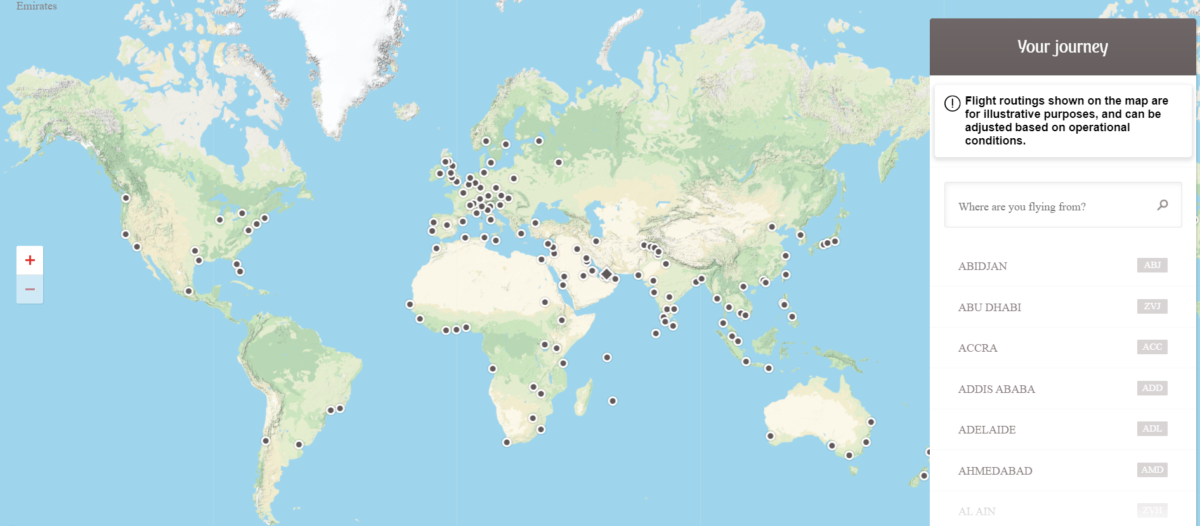 Flying Business Class: Advantages
We hope if you are comparing economy vs business class, our  Ultimate Guide to flying business class with Emirates has highlighted the advantages you will be entitled to if you upgrade. But, of course, in these turbulent times, where restrictions change daily, we suggest checking the Emirates website for the most up-to-date information before booking.
If you are thinking of booking business class flights with Emirates, SkyLux offers some of the best deals available with up to 77*% off air tickets! To find out more about the advantages of booking with SkyLux travel click here