When it comes to air travel, comfort, convenience, and an exceptional in-flight experience are paramount. United Airlines' Polaris Business Class offers all this and more. In addition to spacious seats, gourmet dining, and personalized service, here are our reasons to consider flying United Polaris Business Class on your next adventure.
United Polaris Business Class: At the Airport
Polaris Business Class passengers enjoy priority services from check-in to boarding and baggage handling. This means you'll spend less time waiting and more time enjoying the airport lounge. 
The United Polaris lounges are available exclusively to international premium cabin travelers, offering amenities — such as signature seating, a relaxation area, and showers.
So, if you'd like to freshen up, spa- facilities feature TheraFace products made exclusively for United by Therabody. You can also relax in daybeds, with soft lighting and gentle white noise. Before your long-haul journey, you can grab something from the buffet or settle in for a full meal in a private dining space.
Customers can visit United Polaris lounges at Chicago O'Hare, Houston Intercontinental, Los Angeles, New York/Newark, San Francisco, and Washington Dulles. If a United Polaris lounge is unavailable at your departure airport, you can access United ClubSM locations and other partner lounges.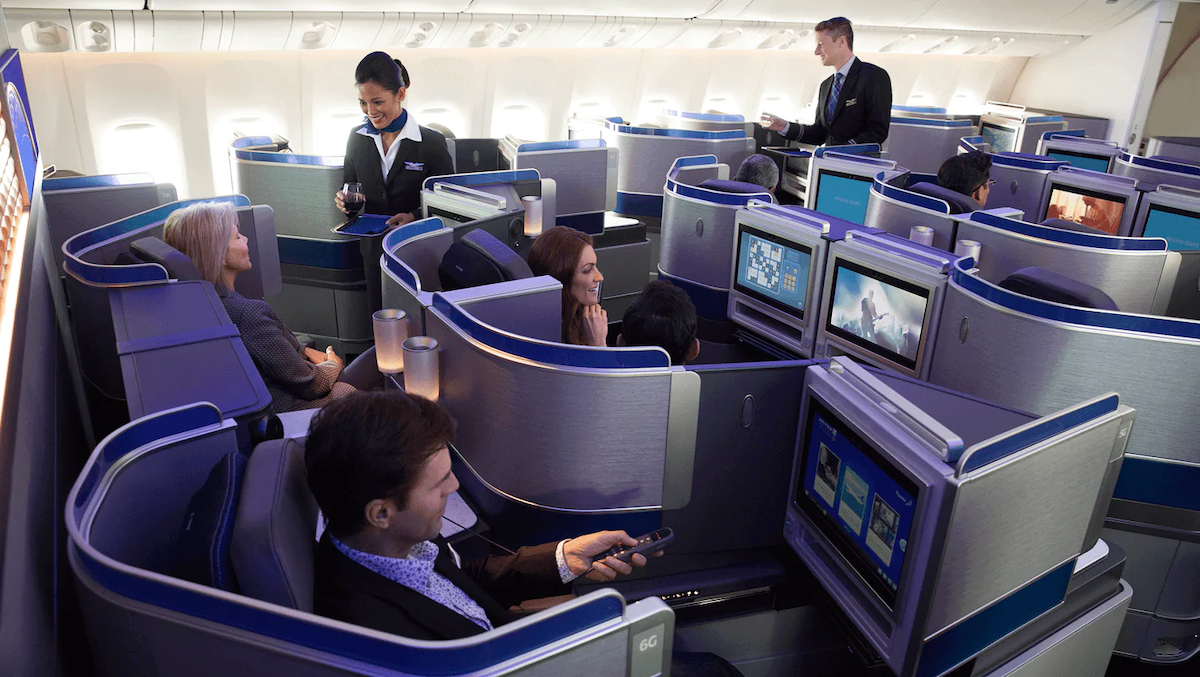 United Airlines Polaris business class has teamed up with Saks Fifth Avenue to create luxury bedding sets. Furthermore, mattress cushions are also available upon request.
Also waiting in your cabin are Polaris amenity kits that center around self-care. In your amenity kit, you'll find the following:
Premium skincare products

Eye serum

Facial spray

Hand cream

Ear plugs

Eye mask

Tissues and a pen
United Polaris Business Class: Cabin & Seat

When flying United Polaris Business Class, every seat has direct aisle access. Furthermore, every seat can be positioned into a lie-flat bed, with a width of 23 inches and a pitch of 75 to 78 inches.
Tip
If you are traveling with a partner, the odd-numbered middle seats are best because the seats are parallel to each other. And for some inspiration this winter, check out our blog, Top 5 Luxury Travel Ideas You Need To Try This Winter.
The Polaris inflight entertainment system has a 16-inch touchscreen monitor, remote, and noise-canceling headphones. You can expect a wide range of movies, music, and TV shows that can be streamed on your mobile devices. Plus, WI-FI is also available.
United Polaris Inflight Dining
One of the main advantages of flying business class is the elevated food and beverage offerings. When flying Polaris business class, you can expect an entree, salad with salad dressing, appetizer, bread, mixed nuts, and a dessert service. Plus, depending on the destination and length of your flight, a selection of midflight snacks and arrival dining service are available.
In conclusion
Choosing to fly with United Polaris is a decision that transcends conventional air travel. It's a choice to embark on a journey where comfort, luxury, and personalized service seamlessly merge to create an unforgettable experience.
United Polaris Business Class elevates your travel from entering the airport. With priority services, exclusive lounge access, and attentive crew members.
The spacious and fully lie-flat seats, complemented by world-class dining and in-flight entertainment, ensure you feel rested at your destination. Whether the plush bedding, the amenity kit filled with premium skincare products, or the carefully curated cocktail list, every detail is meticulously designed to enhance your flight experience.
United Polaris turns it into an experience to relish. So, if you seek the epitome of air travel luxury, convenience, and sophistication, flying with United Polaris isn't just a choice; it's an investment in a journey that's more than a destination. So, check out SkyLux Travel's deals on business class flights with United Airlines.