As the snow begins to fall over the mountains of the west and the sun ascends among forest canopies in the east, we thought now was the ideal time to create a blog on the Top 5 luxury travel ideas you need to try this winter. Therefore if a luxury chateau, log fires, ski slopes, and truffle fondue is what you require? Or jetting off for sun-soaked cocktails in infinity pools on the edge of teeming rainforests is what you desire? Fear not; we have you covered with our luxury travel ideas selection.
Badrutt's Palace Hotel – St. Moritz, Switzerland
Opened in 1896 and inspired by the Grand European Tour, Bradrutt's Palace perfectly combines classical grandeur and modernity. Uniquely nestled among the Swiss Alps, with mountain views from an elevation of 6,000 feet! The palace offers guests the ultimate luxury spa experience, 24/7 butler service, ski passes, and Rolls Royce transfer service.
Furthermore, Bradutt's palace offers a two-Michelin-starred dining experience and a cellar that holds over 30,000 bottles! Including an exclusive truffle fondue paired with Krug Champagne. In summary, if you are seeking out luxury travel ideas this winter, Badrutt's Palace hotel should be on everyone's list. Just in case you are seeking out cheap business class fares, don't forget to check out Skylux's flight deals to Switzerland with up to 77% off!
Goldeneye – Jamaica
With beach villas and lagoon cottages, Goldeneye is complete with tropical gardens and private beaches. Want to sip cocktails while watching the Caribbean sunset? Or indulge in I-tal? (food that's local from the sea and the tree) Goldeneye offers the very best in Caribbean cuisine and luxury. Of course, there is snorkeling, glass-bottom kayaking, sailing, and paddleboarding. However, if you're looking to address your well-being, then the FieldSpa, situated on the edge of the GoldenEye Lagoon, will soothe away your stresses. If you can't wait to pack your cases for this destination – check out Skylux's last-minute business class flights because we have some amazing deals on flights to Jamaica.
The Luxury Resort at Paws Up-Montana
Paws Up resort has 27 vacation homes set in a 37,000-acre, authentic working cattle ranch. In winter, you can dogsled, downhill ski, take on black mountain tubbing, and ice skate. Freshly picked huckleberries and Rocky Mountain trout served with Napa Valley Chardonnay are examples of their refined rustic ranch cuisine. Uniquely in summer, Paws Up's spa is located next to a babbling brook between soaring pine trees in a colony of pristine white tents. But of course, in winter, the spa moves inside the Morris Ranch House, offering their renowned Blackfoot River Rocks hot stone massage and more. Furthermore, if your looking for cheap domestic business class air travel, visit Skylux's page for our best deals.
Six Senses Yao Noi-Thailand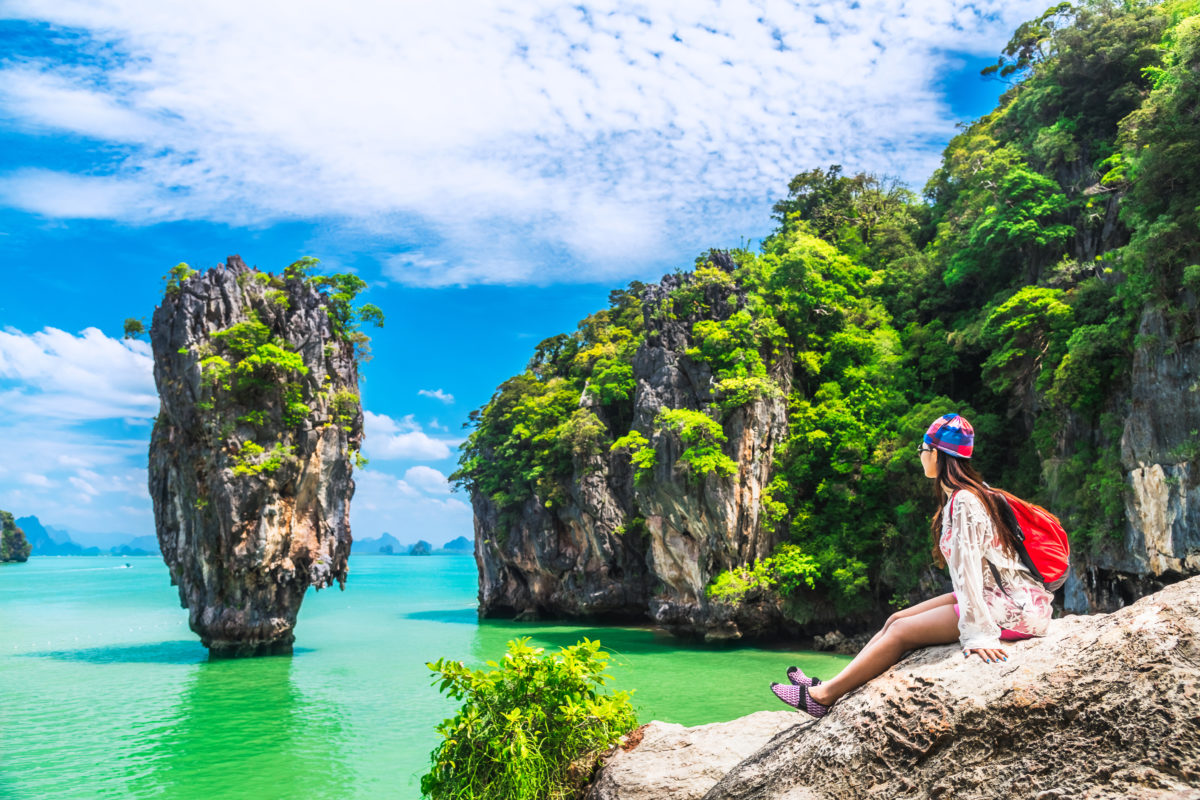 Forty-five minutes from Phuket lies Phang Nga Bay, described as one of the world's most spectacular seascapes. Koh Yao Noi hotel/resort is set within lush natural vegetation and landscaping. You can choose pool villas with amazing views, unique furnishing styles, and charm. For dining, there is not only a choice of quality restaurants, but you also have the option to ask your butler to arrange a champagne breakfast, or an evening barbecue beneath the stars, with a personal chef and dedicated waiter.
As far as luxury travel ideas go, having the option to book a consultation at the spa to measure your key biomarkers is a nice touch! So be sure to check out Skylux's cheap business class fares to Thailand.
Icehotel – Jukkasjarvi, Sweden
A stay in an ice hotel may not be on everyone's "luxury travel ideas list," But maybe it should be? Especially when you consider that Jukkasjärv is known as being one of the best locations to witness the Northern lights! Since 1989 when the hotel was constructed as a popup winter wonder, the ice hotel is now accessible all year round and handcrafted by artists worldwide.
The three deluxe suites are unique to each other in style and theme. However, all 3 have showers, a warm bathroom, and saunas. In addition, the deluxe 365 Johka suite offers a heated relaxation area with a designed en-suite bathroom. Significantly, the hotel is a gallery of amazing must-see ice sculptures, and while there, you can book activities for dog sledding, skiing, or snowmobiling. Currently, we have cheap business class fares with deals with up to 77% of flights to Sweden.
In conclusion 
We hope our pick of the Top 5 luxury travel ideas you need to try this winter has inspired you to seek out new destinations and adventures. For a free quote or to ask any questions, don't hesitate to call one of our experienced travel experts, who can also help with bookings for air, hotel, car hire, and more. You can read more on why Skylux is the best way to book business class tickets. And not forgetting our experts are in the position to offer discounts of up to 77% on Business class flights.