Continuing our series of Business Class reviews, today, we are proceeding with SkyLux Travel review of Turkish Airlines Business Class sky and land experience.
About
Before we delve into Turkish Airlines business class, here is some general information on the airline. Turkish  Airlines was established in 1933 with a fleet of just 5 airplanes. Nowadays, Turkish Airlines has the youngest fleet in Europe, and by ordering more and more new aircraft, it will continue upgrading its service quality. As a result, the airline has 409 units in its fleet, serving 340 destinations worldwide. Furthermore, in 2022 Turkish Airlines was named Turkey's national flag carrier servicing 120 countries worldwide.
Awards
If to mention awards, Turkish Airlines has won the Skytrax award for Europe's Best Airline, a remarkable eight times! Also, in 2022 Turkish Airways won Best Business Class Catering for the sixth time. Therefore, Turkish Airways Business Class is one of the best Business Classes options available. The signature feature is the "Flying Chef" concept. The "Flying Chef" is a real high-caliber Chef who, being a part of the airline crew, assists in preparation and meal serving to the customers.
Turkish Airlines Business Class Seat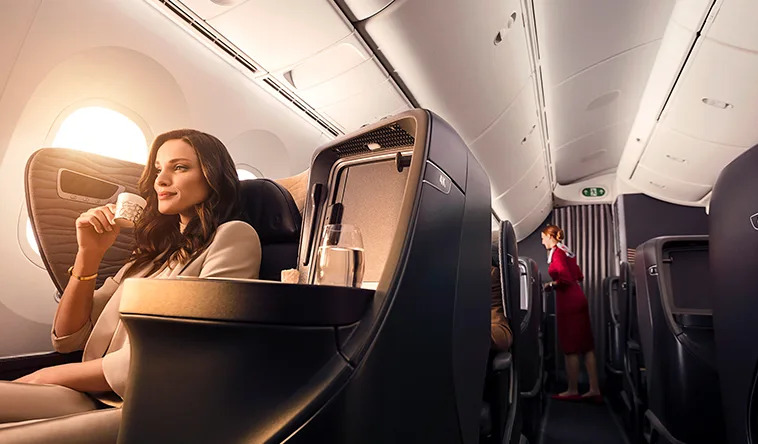 Turkish Airlines Business Class seats are spacious, and seat control options allow for various comfortable positions – there's a position for everyone to settle in. If you want to sleep or take a power nap, transform your seat into a fully flat bed and use a warm complimentary blanket and pillow. Each seat is equipped with a USB port and a headphones port. Free, noise-canceling headphones are provided as well. In addition, you can expect the following: 
Lie-flat seats that open into a 193 cm bed

Bed width reaching up to 66 cm with fully adjustable armrests

Touchpad seat control panel

Adjustable and rotating 51 cm tray table

Cocktail table

18″ IFE screen with adjustable angle

Touchpad IFE remote control with 4″ screen

Universal power outlet and USB charging units

Adjustable privacy screens

Exclusive mirror

Closed and locked storage

Personal reading lamp

Massage feature

Adjustable head support
Meals & Catering
Friendly cabin crew welcomes every passenger with welcoming drinks prior to departure. You can choose from 3 different juices and water. Hence many claims, that getting an alcoholic drink is problematic, due to Muslim traditions. However, if you ask a flight attendant for a glass of champagne they will pour you one without any objections.
"Flying Chef"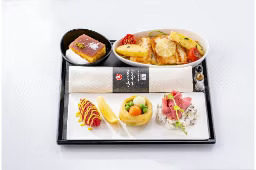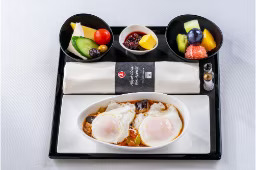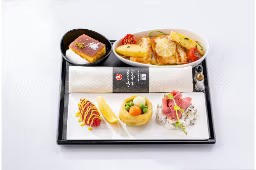 It means that on-boards every plane, there is a chef among other crew members. After you have studied your menu, they will not only take your order but will explain each dish serving and ingredients.  Prior to the full meal service, the chef and flight attendants wheel out a cart full of all kinds of unusual and delicious appetizers– passengers can choose from about eight options that include:
Prawns smoked trout with horseradish cream;
Grilled crab cake with sweet chili;
Avocado-tomato salad;
Spiced chicken breast;
Beet & goat cheese salad;
Hummus;
Deep fried eggplant with green pepper and tomato sauce;
Romaine salad with cherry tomatoes and creamy tomato soup!
The main course is worth your attention as well. Here you can choose between Red meat selections, Seafood, white meat selections, Pasta, and others.
Tea Ceremony
After the main course,  the tea ceremony will follow with sweets and a wide selection of teas. The wide selection of teas includes different flavors. such as: melissa, chamomile, sour cherry, lavender, fennel, anise, green and black teas, cherry stalk, corn-silk, and mint.
Entertainment
Business Class passengers can access free Wi-Fi during flight time and glance at the exterior cameras' view on the touch-screen display in front. Turkish Airway's onboard entertainment program includes classics, drama, family, romance, comedy, and action. Moreover, an individual and multiple-player game channel, a children's channel, and an audiobook channel are also available. The news is also given hourly; the weather reports every four hours in an online broadcast. Alternatively, Turkish Airlines has added an Invest on Board Opportunity, allowing investors flying Turkish Airlines to invest in hand-picked startups. This application features video pitches of strong startups with huge potential.
Amenity Kits
Most importantly, Turkish Airways Business Class amenity kits are designed by Coccinelle and Hackett on transatlantic flights. Each set contains amenities according to the needs of male and female passengers. Female passengers are offered an amenities kit by Coccinelle, a trending fashion brand featuring romantic and feminine bag collections. Male passengers receive an amenities kit by Hackett, the stylish sporty brand preferred by the modern man.
However, both sets both amenity kits will feature a 3D sleep mask, breathable socks, earplugs that balance cabin pressure, a toothbrush, toothpaste, a hair grip, and skincare products.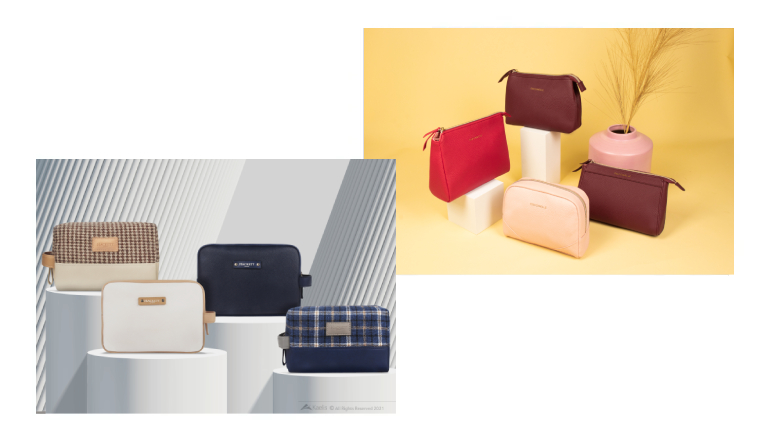 Benefits and Privileges
Furthermore, all Turkish Airlines Business Class passengers are welcome to check in using Business class counters, which saves time you might have spent queuing. Then you can proceed to the lounge, where all international passengers are welcome to enjoy the tranquility and luxury of Turkish Airlines lounges. So simply relax or take advantage of a massage service, sample some dishes, or entertain yourself and your children at the cinema and children's playroom. Moreover, you don't have to worry about timing. Once all passengers are on board, you will be directed to your plane seat by lounge staff. Furthermore, Turkish Airlines business class passengers who have a connection time of 9 hours or longer can benefit from hotel service free of charge. You can find all the details in our blog, Turkish Airlines Stopover Program.
Bottom Line
Above all, Turkish Airways Business Class service excellence is based on small details that make up the whole picture. Such attentiveness toward the details has resulted in service excellence. Likewise, if you are considering your flight with Turkish Airlines, you are guaranteed an unforgettable experience. Furthermore, you can save up to 77%* OFF when you call one of our experts free at ( 888) 668-0828) or visit our dedicated Turkish Business class home page for our latest deals.
Credits to – Turkish Airlines